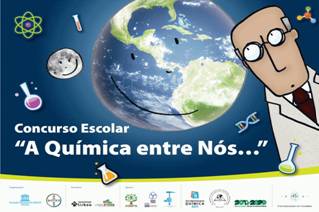 The National Commission of UNESCO and Bayer Portugal, in partnership with the Municipality of Lisbon and Lisboa E-Nova, challenged the students from the Schools of Lisbon to participate in the competition "The chemistry between us…".
The contest was part of the celebrations of the International Year of Chemistry 2011, and intended to highlight the achievements of chemistry, acknowledging their contributions to the welfare of mankind.
The participant students (600), from 30 schools, completed in an original way, through text or visual arts, the last chapter of the book "Terra Vita Sadia" (versions infant or youth).
The Exhibition with the same designation toured 14 schools and other cultural or educational spaces in Lisbon, and was viewed by 10 000 students, complemented by 27 lectures over related issues.
The award ceremony took place on the 5th June, 2012, the World Environment Day, at the Monsanto Interpretation Centre.