SAVE ENERGY was an European Project CIP-ICT-PSP-238882 PROJECT) that addressed the challenge of behaviour transformation through the use of ICT (including ICT-based games and real time information) as an enabler of energy efficiency improvement in five public pilot buildings in five European cities – Helsinki, Leiden, Lisbon, Luleå and Manchester. The project run from March 2009 to August 2011. Information and communication technologies (ICT) were recognized as an enabler for economic growth and of higher energy efficiency. The main objective of the SAVE ENERGY project was to make use of ICT to transform the behaviour of users of public buildings regarding energy efficiency through serious games and real time information from energy meters.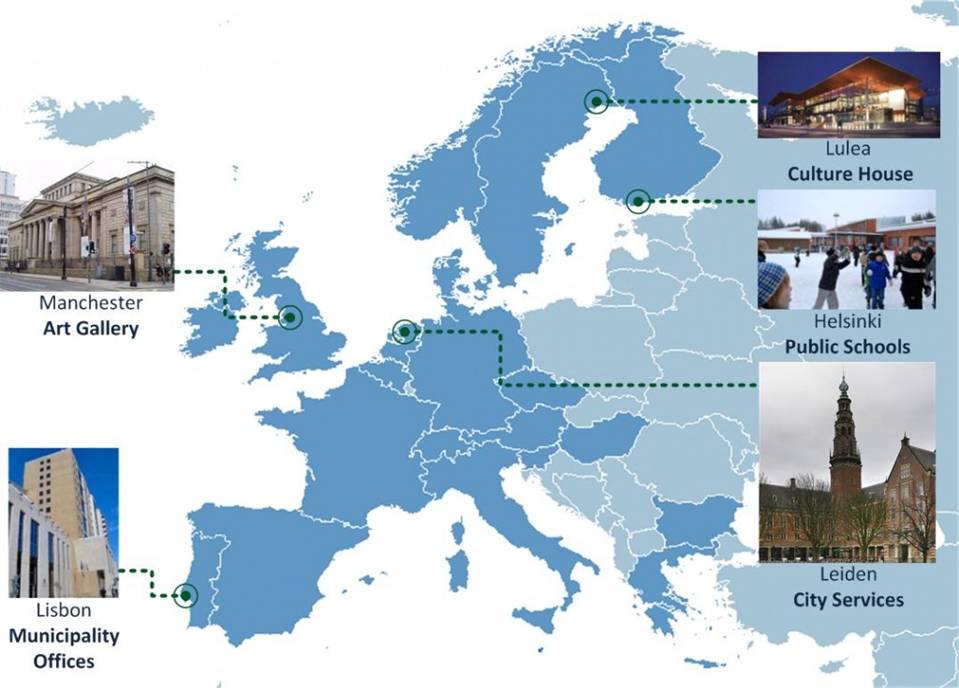 SAVE ENERGY was built upon the Living Labs methodology to provide an engaging environment for users, citizens and policy makers to gain awareness, understanding and experience associated with energy saving behaviours. The Living Lab systemic approach in the context of the SAVE ENERGY project involved all the relevant stakeholders from the very beginning of a new idea, creating the motivation to share and discuss their experiences and expectations. This provided a collaborative environment, where users were expected to co-create the solutions. The Living Lab methodology ensured that the transformed behaviours and the recommended policies were accepted by informed, motivated and empowered users.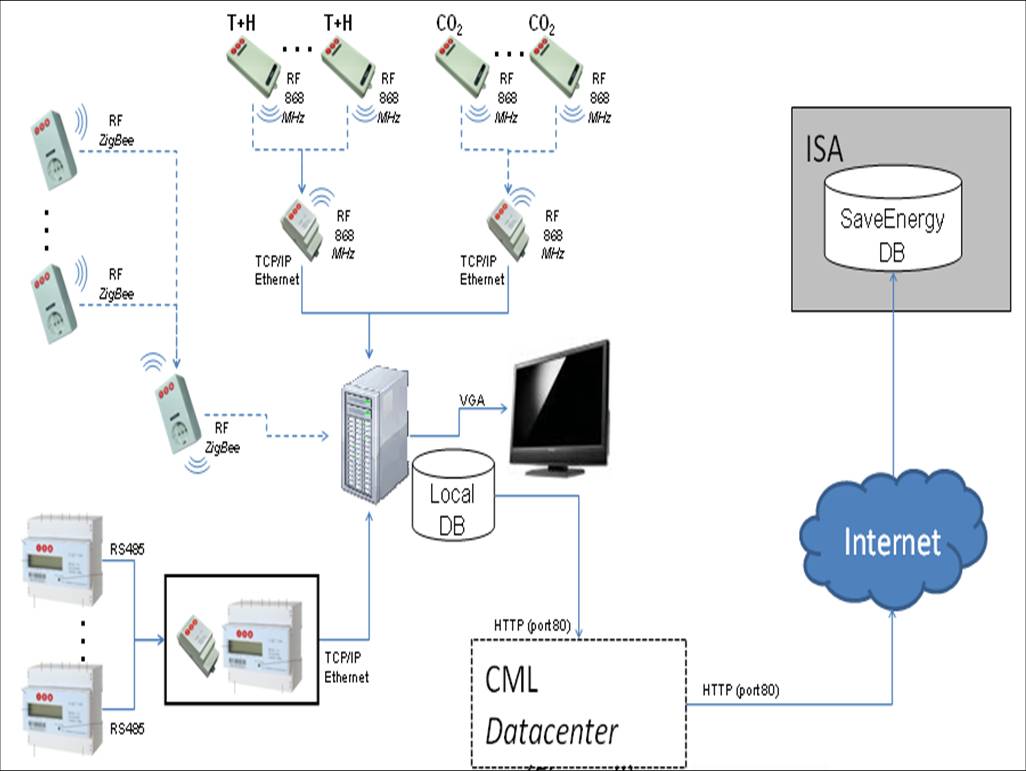 Implementation of the equipments
The SAVE ENERGY platform comprised a local data collection platform to be installed in 5 different pilot buildings and a central platform where the information from all the pilots is consolidated, analysed and compared to energy efficiency models which were optimised along the project. The interaction with the users through real time information or serious games tokk place locally or remotely by using wireless terminals or the Internet, namely the Web 2.0 portal, which were used as a social network tool for behaviour transformation.
The local platform showed the resource and device integrator part, which enabled the interoperability of sensors, actuators and meters. This layer integrated into the central platform middleware which allowed the integration of bus systems, mobile and computer platforms. The user interface layer included web interfaces for computers and mobile devices, the gaming and simulation engines and a business logic service.
The five pilot buildings were fitted with real time energy data collection systems that feed engaging local display of consumption information. The gathered data feeded the technology platform, generating real time information and providing inputs for the serious game (greenmyplace). The impact of both real time information and serious game on the users' energy consumption patterns lead to profound behaviour transformation and to significant energy savings. The results suggested new indicators, metrics and best practices that can be further explored within the context of innovative buildings design and policy recommendations.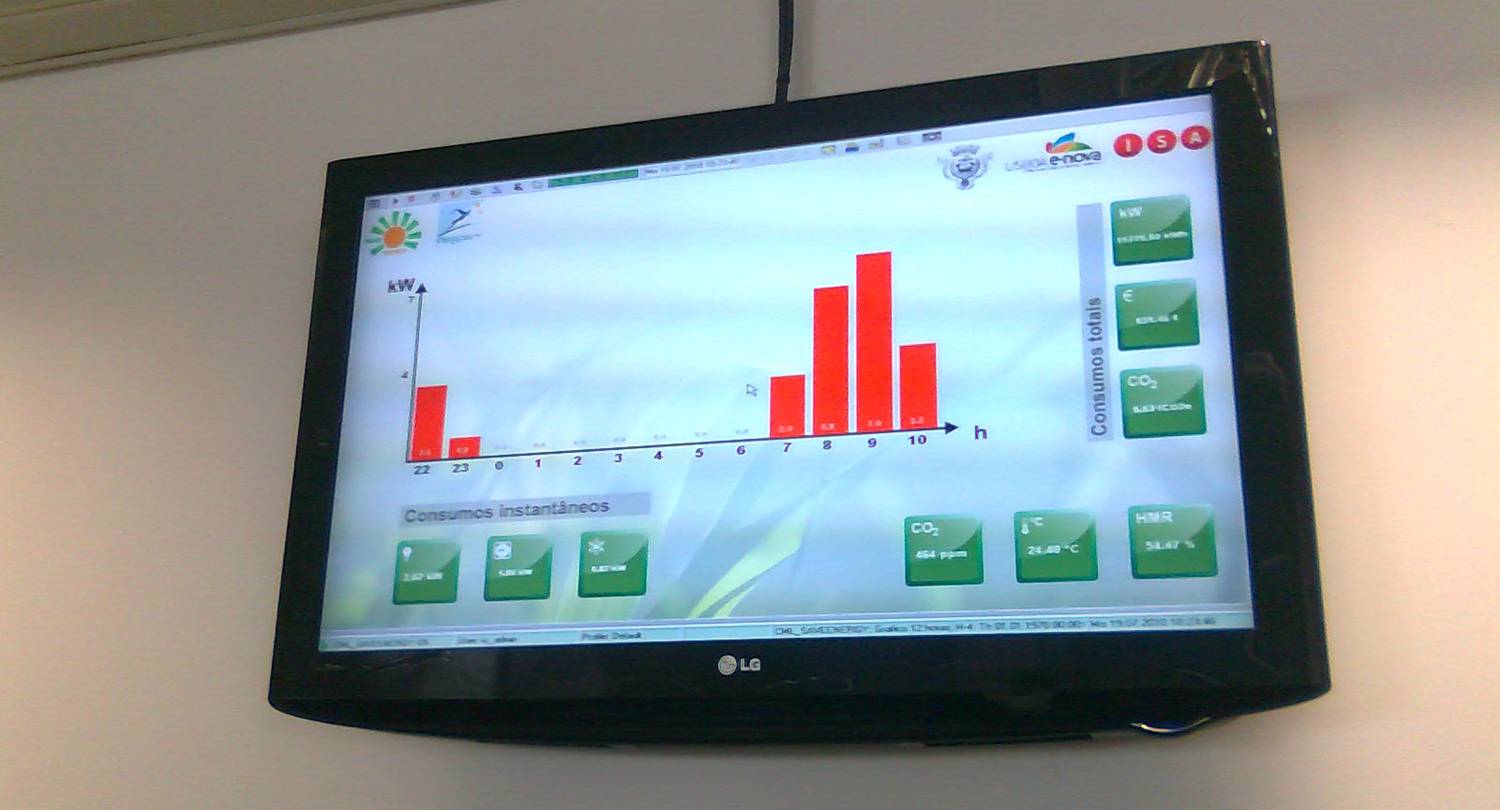 SAVE ENERGY Lisbon Pilot - Real Time Display
The Lisbon Pilot was an administrative building owned by the municipality and provides public services to the Lisbon residents. The initial construction of the building had little consideration for the energy environment dimension. Lisbon pilot was committed not only to foster behavior transformation but also to extend the results to other buildings of the municipality and to disseminate proactively the results beyond the consortium.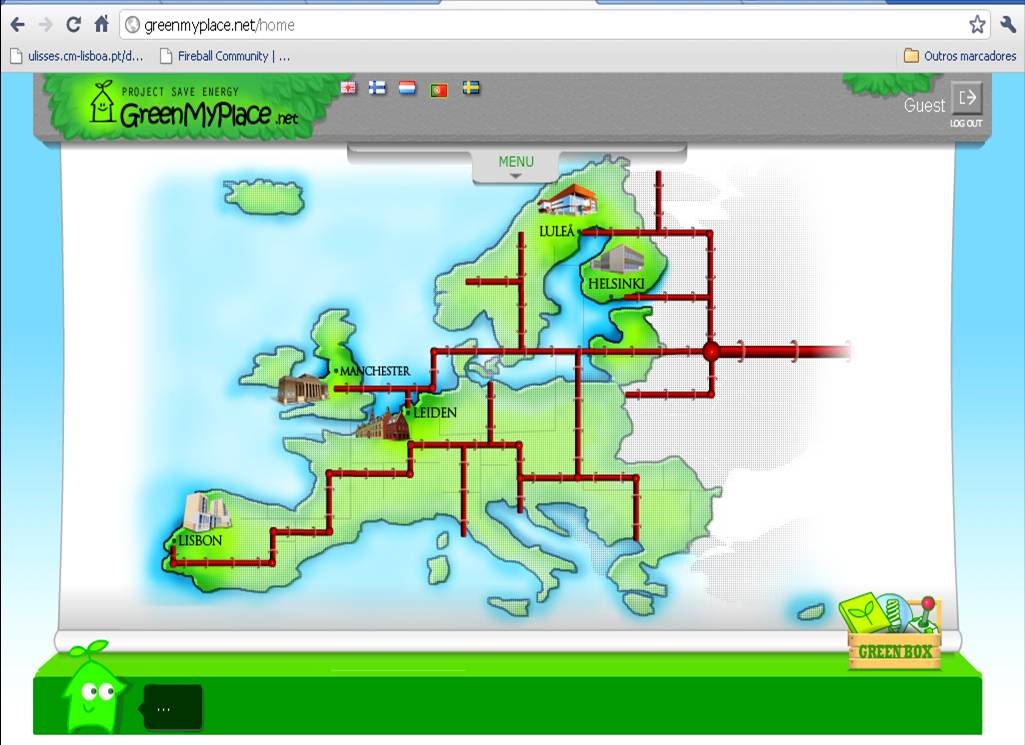 The greenmyplace.net platform (http://greenmyplace.net/ )

Start Date: March 2009 to August 2011

Financial Support: Seventh Framework Programme, Competitiveness and Innovation Framework Programme
Partners:
| | |
| --- | --- |
| Alfamicro - Sistemas de Computadores, Lda | |
| Sticting CeTIM - Center for Technology and Innovation Management | |
| Green Net | |
| Helsinki City | |
| HSE - Technology Supplier Research Helsinki University | |
| ISA - Intelligent Sensing Anywhere | |
| LEIDEN Municipality | |
| LTU – Lulea Technical University | |
| Manchester City Council | |
| Helsinki Metropolia University of Applied Sciences | |
| Sociedade Portuguesa de Inovação - S.A | |
| University of Salford | |
Document of the Project:
Save Energy Green Paper:

Save Energy Manual:

Communication and dissemination actions:
Organized by Lisboa E-Nova
2010/11/18
MEETING POINT CONNFERENCE (Ponto de Encontro)
Presentation subject " Telecontagem - Equipamentos de Sensibilização e Gestão de Electricidade"
Speakers: José Luís Malaquias e Nuno Cegonho

2010/09/30
MEETING POINT CONNFERENCE (Ponto de Encontro)
Presentation subject "A Monitorização de Energia Eléctrica nos Edifícios de Serviços"
Speaker: Miguel Águas

2010/05/13
CONFERENCE "RENEXPO"
Presentation subject "Utilização Racional de Energia - A Eficiência Energética e as Alterações Comportamentais"
Speaker: Miguel Águas

2009/11/05
MEETING POINT CONNFERENCE (Ponto de Encontro)
Presentation subject "Living Labs" - A Sua Aplicação no Sector da Energia e Ambiente
Speaker: Álvaro Oliveira
Organizaed by other entities:
2011/06/17
CONFERENCE "SAVE ENERGY - FINAL CONFERENCE"
Presentation subject "O Piloto Save Energy de Lisboa"
Speakers: Joana Fernandes e Nuno Martins

2011/05/04
CONFERENCE "SMART CITIES - STATE OF THE ART AND NEW OPPORTUNUTIES FOR SMES"
Presentation subject " User involvement in the definition of new ICT based services for energy efficiency"
Speaker: Miguel Águas

2010/03/16
CONFERENCE "SMART PEOPLE AND ENERGY EFFICIENCY"
Presentation subject "Living Labs and Efficient Energy Solutions in Lisbon"
Speaker: Miguel Águas

2010/07/01
CONFERENCE "INTELLIGENT SENSING AND SMART SERVICES LIVING LAB"
Presentation subject "A Eficiência Energética e as Alterações Comportamentais"
Speakerr: Miguel Águas
News about the Project:
Disclaimer:
The sole responsability for the content of this (webpage, publication, etc) lies with the authors. It does not necessary reflect the opinion of the European Communities. The European Commission is not responsible for any use that may be made of the information contained therein.