Pagina do projeto: https://www.sharingcities.eu/
Twitter: https://twitter.com/CitiesSharing
Plataforma de Conhecimento: http://www.sharingcities.eu/sharingcities/knowledge-platform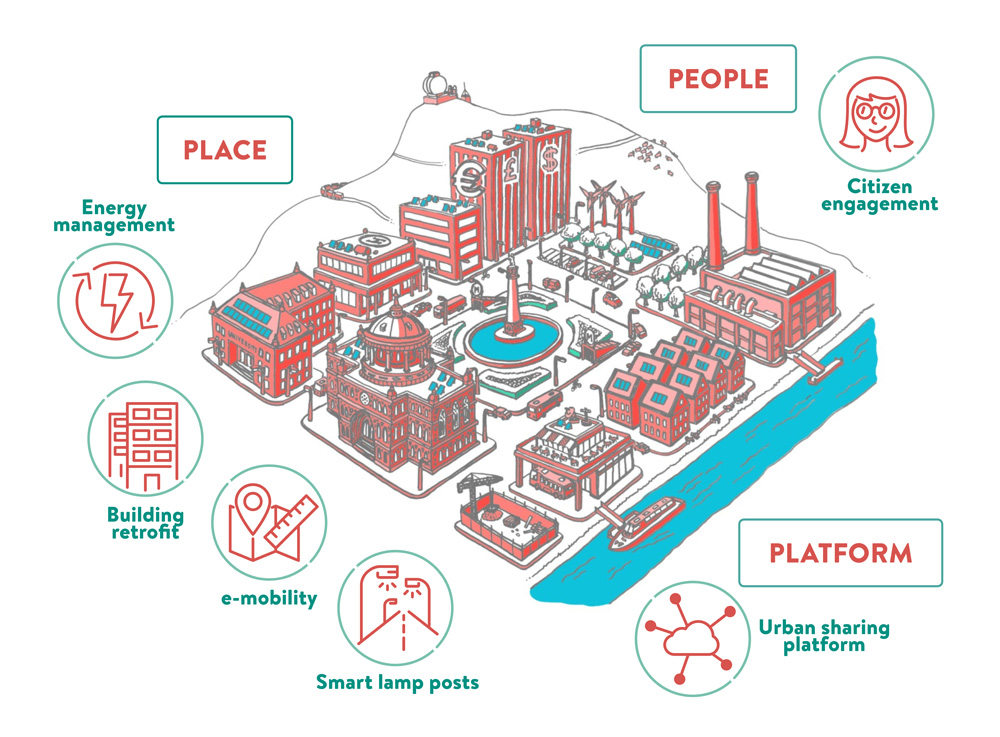 O Projeto Farol Sharing Cities, apoiado pelo Programa Horizonte 2020 SCC1 2015 - Solutions integrating energy, transport, ICT sectors through lighthouse (large scale demonstration - first of the kind) projects, teve o seu início em janeiro de 2016, e terá uma duração de 5 anos.

As cidades de Lisboa, Londres e Milão colaboram no desenvolvimento de um projeto de demonstração de alguns dos elementos necessários à efetiva criação de uma cidade inteligente, através de:
- Desenvolvimento de soluções integradas que respondam os desafios energético-ambientais da atualidade: menos poluição, mais eficiência energética, maior produção renovável de energia, menos emissões de CO2, melhor mobilidade, mais emprego e mais inclusão.
- Aproximação dos cidadãos às suas cidades, aumentando a sua participação, com recurso às novas tecnologias.
- Desenvolvimento de um plano de ação inovador, que sirva de modelo a outras cidades da EU e fora desta.
- Alavancagem de investimento privado e de novas formas de negócio nas cidades, com base na informação gerada pela aplicação das soluções integradas.
A Lisboa E-Nova assume um papel de liderança global do WP 3 (Place), que compreende todas as atividades de demonstração. A Lisboa E-Nova assume ainda a liderança local (Lisboa) da T3.4 (postes de iluminação inteligentes), e participa em vários outros pacotes de trabalho.
O Consórcio é liderado pela Greater London Authority. De entre os 35 parceiros é de destacar os restantes parceiros portugueses: EMEL, EDP Distribuição – Energia SA, Universidade de Lisboa - IST, REABILITA Lda, PT Inovação e Sistemas e CEIIA - Centro para a Excelência e Inovação da Indústria Automóvel.
Video do projeto:
SHARING CITIES (English subtitles)
https://www.youtube.com/channel/UCD_X1LQwpjKZjm14eYyF0TA

Programa: Horizon 2020 Smart Cities & Communities (SCC-01-2015)
Início: 1 Trimestre de 2016
Duração: 60 meses
No âmbito do projeto, realizou-se a Conferência "Cidades Inteligentes - Cidades do futuro".
Notícias:
" As cidades do futuro debatem-se em lisboa"
" Sharing Cities: um novo paradigma de gestão urbana sustentável"
" Sharing Cities: Promover a participaçãona cidade de amanhã"
" Sharing Cities: Energia, Mobilidade e infraestruturas"
Horário de funcionamento:
Dias úteis das 10h-13h e das 14h30 - 19h30
Visitas guiadas com marcação prévia para o seguinte email: This e-mail address is being protected from spambots. You need JavaScript enabled to view it
Área de intervenção Projeto Sharing Cities: